MTSeis_S Array System
MTSeis_S is An Universal Audio Magneto-telluric Exploration system, which includes three coils, five non-polarized electrodes, 8-channel recorder and a calibration sub-system.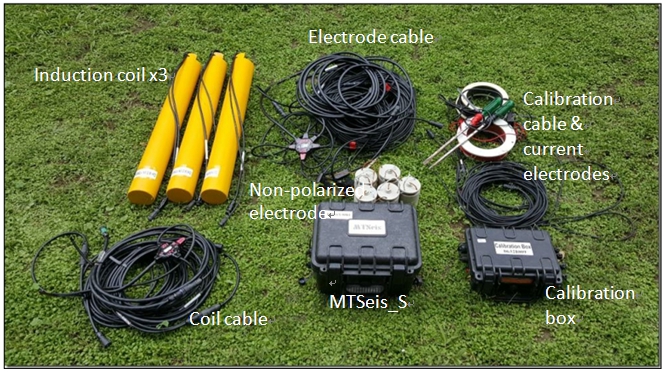 | | |
| --- | --- |
| Application Examples: | Available S  oftware |
| Groundwater exploration | MTSeis_Data Plow |
| Mining exploration | MTSeis_Data Processing |
| Civil Engineering survey | IPI2win_MT (Free AP) |
| Shallow geothermal exploration | ModEM (Resale of ModEM Geophysical Inc.) |
| Seismoelectric observation | Passive & Active Seismic Source Tomography |
| Earthquake research | CSEM 3D Tomography |
Recorder

Specifications

ADC

24 Bits x8 channels

3G/4G Internet connection

Optional with SMA for external Antenna

WIFI AP

802.11 b/g/n with SMA for external Antenna

Sampling rate

16KHz & 4KHz

Geophone connection

Optional

Power supply

Tri-paths:

External,

Hot-swappable 20AH x @7.2V &

5.2AH @7.2V backup

Dimension/ Weight

26.5 cm x 23.5 cm x 16 cm /4.2 kg
Frequency range

8KHz ~ 0.1Hz

Anti-aliasing filter

8KHz

Array Processing

Yes

Interfaces

Ch1-Ch3: M12 x8 for optional geophones

Ch4-5: M12 x8 for two electrode pairs

Ch 6-8: M12 x8 for three coils

SMA x2 for Cellular modems; SMA x2 for WIFI; SMA x1

for GPS; One SMA reserved M12x3 for External power RJ45 x2 for Ethernet

Non-polarized Electrodes

 

Dimension/ Weight

Φ10 cm x 15 cm/ 550 g

V difference between two electrodes

< 1 mV

Noise in 30 minutes

< 0.01 mV

24-hour stability

< 0.1 mV

30-days stability

< 1.0 mV

Impedance

< 50 Ohm

Frequency range

DC ~ 10 KHz

Temperature range

-10 ~ 40oC

Calibration Box

 

Dimension/ Weight

21.5 cm x 18 cm x 9.5 cm/1 kg

Sinusoidal signal Frequency

8Hz using push button

Voltage output to current

electrodes

~100mA

Current output to coil

~1mA

Coil

 

Dimension/ Weight

Φ7 cm x 66 cm/ 6kg

Amplitude response

 

 

Phase response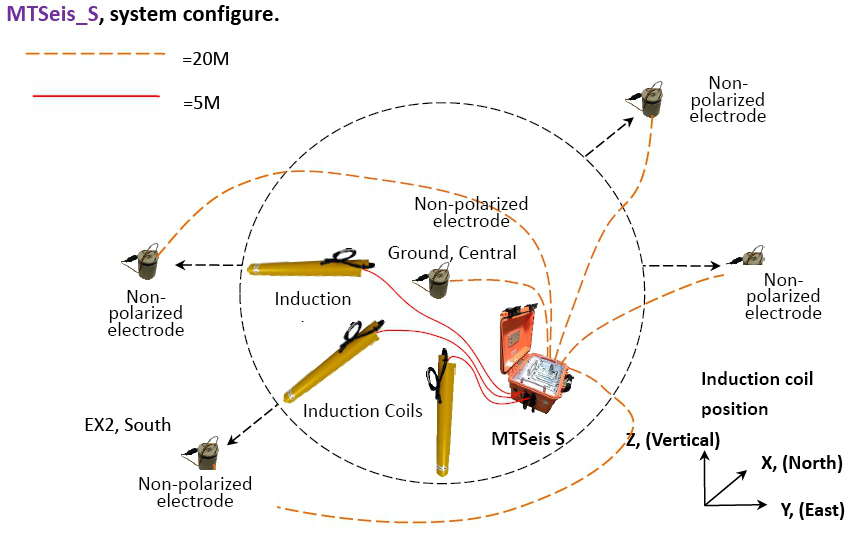 Other Possible Applications
lPassive Earthquake Exploration (Micro Earthquake)
lActive Shear wave Vibroseis Tomography Exploration (Patented pending)
lControl Source Electromagnetic (CSEM) Exploration
lEarthquake Research
lSeismo-electric Exploration
Other MTSeis_S Configuration
1)   Eight Geophones for Seismic
2)   3 Low freq. coil + 3 High Freq. Coils + Two Electrode Pairs
3)   Eight Electrode Pairs
MTSeis_S Array uses four simultaneously recording stations to de-spike the un-correlated noises by variance technique. The array includes one Calibration sub-system for calibrating at field site.
Red line: original; Green: noise removed for 114,000 seconds

Example of Effective Apparent Resitivity XZ Plane

Example of resistivity distribtion (right figure)along the cross section shown on the left figure